Established in 1986 with the first digital single-quotation dial gauge, through continuous development and improvement, since 1996 M-BUS Metro modules have made it possible to connect numerous measuring instruments of various manufacturers and different technologies to M3 or M400 displays.
Alternatively, the modules can be connected to a PC or PLC
The latest design revision also based on customer requirements offers the best performance
The modules are made of extruded anodised aluminium and can also be fixed via 'standard DIN rail'.
The M3 and M400 displays are instead machined from aluminium blocks. The electronic boards and their assembly takes place at Metro's Boege facility. They are suitable for a harsh workshop environment.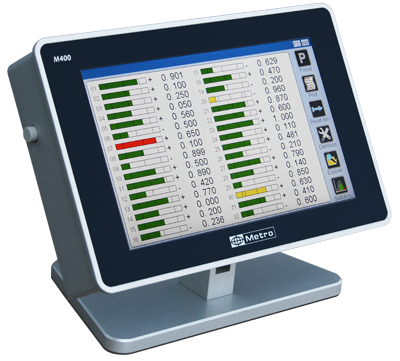 We are using Metro measuring devices since many years in our factories. Since end of 2015 we have started to use their new air gage products: M1, M3 and M400 displays + MB-AG modules.
With these Metro devices we have drastically reduced our measurements uncertainty, and improved our R&R results. We had therefore consequently improved our processes and thus reduces our scrap rates. Metro's air gage products has quickly become a standard for us.
From now all new 100% automatic inspection lines are equipped with Metro products. Most of the existing machines are being retrofitted with Metro products